Image credit: Syracuse Peace Council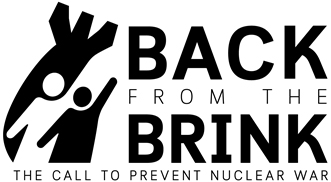 is a comprehensive plan outlining necessary policies to safeguard
the public from the risks of nuclear war.
(See the full statement here and FAQs here)
Abolishing nuclear weapons has been a core goal of PSR since our founding in 1961. We believe that physicians and other medical and healthcare professionals have a role to play in the prevention of nuclear war. Nuclear weapons perpetuate fundamental injustices and inequities within our communities and societies today. We use the Back from the Brink platform as a tool to communicate with legislators and the public about how to reduce and abolish nuclear weapons in five key steps, in addition to using diplomacy to reduce nuclear tensions.
We call on the United States to lead a global effort to prevent nuclear war by:
renouncing the option of using nuclear weapons first
ending the sole, unchecked authority of any president to launch a nuclear attack
taking US nuclear weapons off hair-trigger alert
cancelling the plan to replace its entire arsenal with enhanced weapons
actively pursuing a verifiable agreement among nuclear armed states to eliminate their nuclear arsenals
"Years ago, during the Cold War, when I was the Under Secretary of Defense, I was awoken at 3:00am in the morning. As I picked up the phone, sleepily, the voice on the other end identified himself as the watch officer at the North American Air Defense Command — and the first thing he said to me was his computers were showing 200 ICBMs [Inter-Continental Ballistic Missiles] on the way from the Soviet Union to the United States. I will never, ever forget that moment. Happily, he then went on to tell me that he concluded it was a false alarm and the reason he was calling me was that he hoped I might be able to help him figure out what had gone wrong."
~ William J. Perry, 19th Secretary of Defense and 2020 Greater Boston PSR Honoree,
in an interview with GBPSR Executive Director Anna Linakis
Back from the Brink started here in Massachusetts in early 2017. Since then, many municipalities and organizations throughout Massachusetts have gotten on board. The municipalities in MA that have passed a Back from the Brink resolution include:
Amherst
Brookline
Boston
Cambridge
Cummington
Easthampton
Goshen
Holyoke
Leverett
Marshfield
Needham
Newton
Northampton
Plainfield
Somerville
Springfield
Worcester
Wendell
Williamsburg
Windsor
2020 Action
2degreesatgreenneighbors.earth
Arise for Social Justice
Badass Activists in the Pioneer Valley
Bethel African Methodist Episcopal Church
Bikes Not Bombs
Boston University Advocacy Training Program at BU School of Medicine
Boston University Committee on Medical Student Affairs
Brookline PAX
City of Easthampton
Civil Society Institute
Climate Action Now (Western Mass)
Climate Action NOW Western Massachusetts
Congregation B'nai Israel
Congregation Mishkan Tefila
Department of Family Medicine, Boston University School of Medicine
DREGS
EarthAction
Edwards Church of Northampton
Elders Climate Action
First Congregational Church of Hatfield, United Church of Christ
First Congregational Church of Leverett, Massachusetts
Franklin County Continuing the Political Revolution
Global Strategy of Nonviolence
Greater Boston Physicians for Social Responsibility
Greater Springfield Campaign Nonviolence
Haydenville Congregational Church
Holy Cross Church JustFaith Community
Holyoke, MA
Immanuel Lutheran Church
International Physicians for the Prevention of Nuclear War (U.S. Affliate)
Islamic Society of Boston
Justice Promoter, Sisters of St. Joseph
Mass Healthcare Providers for Clean Energy
Massachusetts Peace Action
The Massachusetts Poor People's Campaign: A National Call for Moral Revival
Milton Pediatrics
Newton Dems Executive Committee
Newton Dialogues on Peace and War
Nipponzan Myohoji, New England Peace Pagoda
North Shore Coalition for Peace and Justice, MA
Northampton League of Conservation Voters
Northampton Neighbors, Northampton, MA
Pax Christi USA – Beverly, MA
Pax Christi Western Massachusetts
Physicians for Social Responsibility
Pioneer Valley Women's March
Pioneer Valley Workers Center
Prevent Nuclear War
Prosperity Candle
Rat Haus Reality Press
Sierra Club of Massachusetts
Smedley Butler Brigade, Chapter 9 of Veterans For Peace
Students for Environmental Awareness in Medicine (SEAM), Harvard Medical School Chapter
The Enviro Show
The Resistance Center for Peace and Justice
The Social Justice Committee of Synagogues at the 384 Campus
United Church of Christ, Massachusetts Conference
Union of Concerned Scientists
Unitarian Society of Northampton & Florence
Unitarian Society Of Northampton and Florence
Unitarian Universalist Association
West Cummington Congregational Church
White Rabbit Grove RDNA
Women's International League for Peace and Freedom